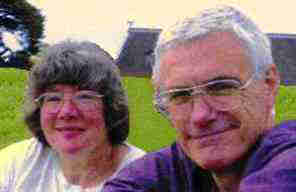 My wife Roseline and I. Ros also sings (top soprano to my second bass!) and frequently helps me with proof-reading - so if you do ever find a mistake, it will come out of her wages...
I'm the founder of PartAbility; my name is John Hinsley. After a career in Computing and Telecommunications, I belatedly decided that life is too short to spend great chunks of it doing things you're not passionate about, even if they do keep the wolf from the door...
I'd always been an amateur musician, playing mostly bass, guitar or mandolin in folk or rock settings, both within and without the church. My sister was the real musician of the family, with a DipMus and successful piano-teaching career, but had long encouraged my own music-making. A few years ago I broadened my outlook by joining various choirs, enjoying hugely the experience of "corporate" musicianship. I studied for a DipMus of my own, in "classical" music theory and practice, and was pleasantly amazed to be awarded Distinction grades in both elements. I started producing rehearsal CDs for various groups on a voluntary basis; I was aware that a few companies were already out there producing such CDs, but generally they only covered the "big" works, and there always seemed to be gaps in what we needed.
On September 2nd 2005 I finally took the step of launching PartAbility. Our mission is to produce affordable rehearsal aids for people like myself: folk who enjoy music but aren't "sniffy" or precious about it, and who are keen to perform every piece to the best of their ability but haven't necessarily had the formal training to "read the dots" in real-time - or indeed, to read them at all. After all, the only really important thing is the connection that the performer(s) make with the audience; and whether that level of performance is achieved by formal or less formal means is, in my humble opinion, irrelevant. Remember that the vast majority of musicians world-wide cannot read musical notation at all...